Kristen Ulmer – The Art of Fear: A Review
It is my belief that we innately have a longstanding, one-sided relationship with fear. Most of us live our lives underneath its far-reaching shadow never truly experiencing life, while the rest jump from planes, climb to the top of the tallest mountains, extreme ski, and pursue their true passions in life.
Why is this? Why do the minority let fear fuel them while the majority let it cripple them?
I've tried to ask Google this very question on more than one occasion. Go ahead and try it for yourself. Go to www.google.com and type in the word fear. Within seconds 620,000,000 websites will appear and try to explain the fear phenomena to you. When you think you've got a feel for what fear is and why it affects us, go back to www.google.com and type fear quotes. Then wait and watch your browser explode with 49,500,000 more pages.
In a world filled with so much contradicting information regarding fear, it can be tough to learn anything, can't it? So when I was asked to read and review The Art of Fear by Kristen Ulmer, I jumped at the chance.
The Art of Fear fell short.
The book begins making its case by intelligently dissecting our brains into relatable figureheads. According to the author, inside we all have a CEO known as the Lizard Brain, a COO or Thinking Brain, Will (Employee) and Determination (Employee). Like their titles suggest, each is responsible for controlling different areas of our lives.
Kristin argues that our Lizard Brain or amygdala is responsible for keeping us safe. The Lizard Brain is on the constant watch for anything that may harm us. With this, it does an admirable job. The problem with the Lizard Brain is it cannot separate the difference between minor and major danger. Sadly, as a by-product of its inability to separate the two, we are left in a perpetual state of uneasiness.
As with any company, the CEO (Lizard Brain) works alongside the COO (Thinking Brain). The COO's primary job is to attach a story to the signals that the Lizard Brain is feeding us. If this sounds like a good system, hold on. According to Kristen, the issue with the way this works is that we are easily convinced by these stories. And because we are easily convinced, we hear the story, believe it, and let it control us. If the opposite were true, we would hear the story, slough it off, and move on. If we were to slough it off, the author argues that we would be able to easily overcome most fears. But we can't. We listen, believe and act accordingly.
The book continues by teaching us that we must unlearn the way that we repress fear. This is explained through a simple equation:
Suffering = discomfort x resistance
If the equation doesn't make sense, we suffer because we resist addressing whatever discomfort is causing the suffering.
The most remarkable and thought provoking point occurs when Kristen points out that in conjunction with not believing the stories we tell ourselves and addressing the discomfort, we must also recognize that it's not fear we need to overcome. Instead, we must recognize and overcome the situation that's causing the fear.
Think about it this way.
It isn't the snake that we're afraid of. It's being around the snake that causes fear.
As I read and finished the book, I found myself thinking about the various points. While certainly entertaining, I am not convinced by her approach. My struggle with The Art of Fear was not the logic presented but the lack of empirical evidence to back it up. I simply found it hard to comprehend and believe what she was saying without any sort of study, data, research or story from outside of her life. Unlike most books I've read that have been put together with facts and backed by evidence, The Art of Fear has been built on opinions and point of view.
Beyond that, I found it frustrating that she felt it important to continually remind and reintroduce me to the reason I was reading the book. It felt as though she didn't believe that I understood what she was saying and/or I didn't know why I was reading the book. For these reasons, The Art of Fear nearly made my "never read again" pile. By no means is The Art of Fear not a good book, it just wasn't a good book for me.
Cheers to your success,
Joel
From the Publisher:
Hardcover: 320 pages
Publisher: Harper Wave (June 13, 2017)
A revolutionary guide to acknowledging fear and developing the tools we need to build a healthy relationship with this confusing emotion and use it as a positive force in our lives.
We all feel fear. Yet we are often taught to ignore it, overcome it, push past it. But to what benefit? This is the essential question that guides Kristen Ulmer's remarkable exploration of our most misunderstood emotion in The Art of Fear.
Once recognized as the best extreme skier in the world (an honor she held for twelve years), Ulmer knows fear well. In this conversation-changing book, she argues that fear is not here to cause us problems and that in fact, the only true issue we face with fear is our misguided reaction to it (not the fear itself).
Rebuilding our understanding of fear from the ground up, Ulmer starts by exploring why we've come to view it as a negative. From here, she unpacks fear and shows it to be just one of 10,000 voices that make up our reality, here to help us come alive alongside joy, love, and gratitude. Introducing a mindfulness tool called Shift, Ulmer teaches readers how to experience fear in a simpler, more authentic way, transforming our relationship with this emotion from that of a draining battle into one that's in line with our true nature.
Influenced by Ulmer's own complicated relationship with fear and her over 15 years as a mindset facilitator, The Art of Fear will reconstruct the way we react to and experience fear empowering us to easily and permanently address the underlying cause of our fear-based problems, and setting us on course to live a happier, more expansive future.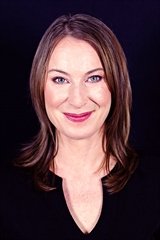 About Kristen Ulmer
Kristen Ulmer is a facilitator who draws from her tenure as the best woman extreme skier in the world for twelve years and from thousands of hours facilitating clients on the subject of fear. Her work has been featured on NPR and in the New York Times, the Wall Street Journal, Forbes, USA Today, Outside magazine, and many other publications. She lives in Salt Lake City, Utah.
Find out more about Kristen at her website, and connect with her on Facebook and Twitter and Instagram.